NEWS
2019.04.23

日本初 朱敬一個展 令和元年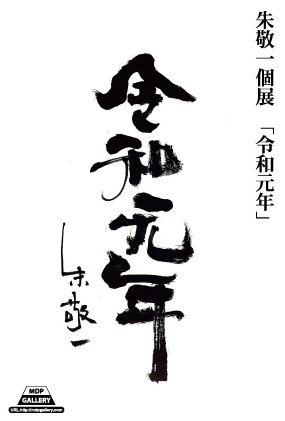 2019年5月17日(金)より、朱敬一による日本初個展『令和元年』を開催いたします。
流行語や流行文句などをオリジナルの書体『南門字体』の作風で作品を制作し、中国国内で広く知られている現代アーティストの朱敬一。
何度も日本を訪れる度に、日本の方が中国伝統の文化がそのままの形で残されていると感じていた。
そんな折、2018年訪日の際に日本初個展が決定。
それからというもの「分からない日本語で、何を表現すればよいか」「国や言語を違いを乗り越え、伝えられることは何か」を探求し、
日本人の心に響く詩や名言を、独自の視点から作品を創作。
中国と日本、多くの共有している文化を感じ、表現した朱敬一の新作20点余りを展示いたします。
朱敬一,一位来自中国的当代艺术家。通过自创的南门字体书写流行段子走红网络。
这是南门书法在日本的首个展览,针对这次展览,朱敬一特意找了一些日本当红的段子进行书写创作。艺术家本人是不懂日语的,通过这次接触,艺术家打破了地域、空间、语言的屏障,与日本语言文字达成连结共鸣。
【開催概要】
期 間:2019年5月17(金)~ 5月25日(土)
会 場:MDP GALLERY(東京都目黒区青葉台1-14-18 1F)
時 間:11:00~19:00 ※最終日は18:00まで/日・月・祝日休廊
電 話:03-3462-0682
料 金:入場無料
【レセプションパーティ】
開催日:2019年5月17日(金)
会 場:MDP GALLERY
時 間:18:00~20:00 自由入場
【朱敬一 プロフィール 】
Zhu Jingyi
1975年、江蘇の中国漢方医学の家庭に生まれる。
少年時代から伝統中国画に興味を持ち、南京師範美術学院中国画専門に進む。
その後高校の先生、デザイナー、アートディレクター、編集者など様々な職業を経験。
2012年、「立体的な墨」のシリーズを発表し、アート界で頭角を現す。
「アートとは、誰でも理解できること」という世界観を持つ彼は、2014年以来インターネットで若者の人気な言葉を書にして毎日披露、
広く人々の心をつかみ、知名度が一気に上がる。
商業とアートのバランスをうまく融合させ、最近では人々に「アートは生活の中から生まれるものだ」という意識をわかちあおうと、
トークショーなどに積極的に参加している。
<展歴>
個展:
2018年 《遊園敬夢》シリーズ《来る出るお寺》装置 上海万博展示館 上海
2018年 《未来実験室》 上海太古匯来中心、上海
2018年 《憂さ晴らしの道》 静安嘉里センター個展 上海
2017年 《都市気泡》 昆明南アジア風情第一城 アモイ
2017年 《狂想雲南》 昆明南アジア風情第一城 昆明
2017年 《草書歌行》 大世界センター 上海
2017年 《芸術百代2017朱敬一クロスアート展》上海万博展覧館 上海
2017年 《科勒X朱敬一混合実験室》蘇州誠品書店 蘇州
2017年 《不破不立 朱敬一 X NPC》NPC長楽路空間 上海
2016年 《天演論》春美術館 上海
2016年 《文字落書きショー》年代美術館 温州
2015年 《同体大悲》2679芸術空間 アモイ
2014年 《万物》浦東国際空港 上海
2014年 《帰山時、狐を白雲に追い込んでください》RNP芸術空間 上海
2013年 《墨です、非墨です》Karin Weber Gallry 香港
2013年 《桃花源記》Junngerギャラリー ベルリン
2013年 《12干支》Villach、オーストリア
2012年 《山見・造営—立体的な墨》自然の素研山斎 上海
2008年 《妖野荒跡》三尚ギャラリー 上海
2006年 《モノクロ錬金術》最上階ギャラリー 上海
グループ展:
2018年 《Joy、up to love 大胆に告白―大悦城2018年度全国ブランド活動》 大悦城 北京/上海/成都/瀋陽/煙台
2017年 《理想の城》 月星環球港  上海
2017年 《ショーウインドー公共芸術ショー》 汇金百貨  上海
2017年 《芸術家の遊び場》 プラチナマンホテル  広州/南京/上海
2016年 《who?—海上新族現代芸術作品展》 春美術館  上海
2016年 《こだま・自然の道》 優在集  上海
2015年 《62度灰とTAの友達》 尤倫斯芸術センター 北京
2015年 《上海新メディア芸術家聯展》 Emergent Mediaセンター アメリカバーリントン
2015年 《TA時代第二回展》 北京時代美術館 北京
2014年 《未完続く——2014東昌映画館芸術計画》 東昌映画館 上海
2014年 《2014中国国際装置芸術展》 龍美術館 上海
2014年 《養逸山房》 カリンウェバーギャラリー 香港
2014年 《それぞれその位》 多倫現代美術館 上海
2014年 《袁石桃:社会学以外の研究のケース》 証大現代芸術空間 上海
2014年 《三次元の墨》 多倫現代美術館 上海
2014年 《意・象——上海ヒマラヤ美術館開幕展》 ヒマラヤ美術館 上海
2013年 《墨測定高深度——現代空間水墨展》  北京現代芸術館  北京
2013年 《山林芸》 Charvaniac-lafayette フランス
<トークショー>
2014年 TEDxNINGBO《インターネット時代芸術はどうやって遊ぶか》
2015年 上海創意発声《最高のアイデアは自分を見つけること》
2016年 金融博物館《変人で自給自足する人》
2016年 芸術巡回トークショー《芸術再生人生》 張家港/温州/上海
2017年 朱敬一x 万科波しぶき 《芸術の新しい波》
2017年 TED x Lujiazui 《芸術再生人生》
2018年 朱敬一x澎湃澎湃ニュース 《変人で自給自足する人》
2018年 朱敬一x 造就 《人生は面白い》
2018年 朱敬一x 奇谭十一人《サッカーをお願いします》
<ブランドコラボ>
MONTBLANC · COACH · SHISEIDO · FOTILE · SENJADE·
PARK HYATT · SULWHASOO· NPC· KOHLER · ALIBABA· TAOBAO
CHINA MINSHENG BANK · OTR · ALIPAY · TOYOTA · VOLVO · POCKY
QINGDAO BEER · STAPLE · FIFA WORLD CUP
朱敬一
跨媒体艺术家
线体主义画派创始人
立体的墨创始人,
互联网艺术研究者
光影涂鸦表演者
艺术美学演说家
网红书法家
1975年出身于江苏传统中医家族,少年时代热爱传统中国画,于南京师范美术学院国画专业毕业后,从事过高校老师,设计师,艺术总监,撰稿人等工作。2012年,立体的墨系列在艺术界崭露头角。在他的世界观里,艺术是人人都能理解的东西,2014年起开始每天在网络上发布一张段子书法 坚持至今,打动人们的内心深处,使得他的书法在中国迅速被广泛传播开来。能很巧妙掌握商业与艺术平衡的他,为了普及艺术源于生活的意识,最近热衷参加各种脱口秀
品牌合作项目:
方太厨电 艺术与美食项目 2012-2014
SENJADE 礼品包定制 2013-2014
2016
万宝龙 艺术书写课堂
柏悦酒店 《美食与艺术相遇》秀场
资生堂 2016年度大秀
雪花秀 2016年新品发布
2017
NPC NPCx朱敬一联名T恤发布
NPC NPCx朱敬一《不破不立》展览
科勒 2017混搭派新品发布会
高夫 高夫x朱敬一联名面膜发布
阿里巴巴 淘宝造物节神店秀
御泥坊 御泥坊x朱敬一联名面膜发布
淘宝心选 淘宝心选x朱敬一联名限量版收藏礼盒
Pidan Pidan x 朱敬一联名流浪猫投食袋
一大口 一大口 x 朱敬一联名"大有口福"年货礼盒
民生银行 民生银行x朱敬一联名民生银行信用卡
无限极荟 无限.跨界乐无边 一周内庆典暨"smiley玩生活艺术展"
科勒 科勒x 朱敬一 科勒双11畅想
青岛啤酒 青岛啤酒深夜食堂故事罐包装
万宝龙 艺术书写课堂
OTR 朱敬一 x OTR 联名T恤
支付宝 朱敬一x支付宝"做一天乞丐"项目
2018
康师傅 朱敬一x康师傅涵养泉 深圳文博会之旅
万科大家 朱敬一x 万科大家 "百栋中国"焕思创艺派对
老板电器 朱敬一x 老板电器超级发布会
一汽丰田 朱敬一x 一汽丰田新赏.新丰尚春季新品发布盛典
沃尔沃 朱敬一x 沃尔沃XC60车身涂鸦创作及用户专属体验
STAPLE STAPLE x朱敬一"飞鸽传书"系列新品发布会
世界杯 朱敬一 x 世界杯央视海报字体书写
姜文电影 朱敬一书法折扇x 姜文电影《邪不压正》苏州见面会
百奇 2018百奇创意艺术设计法赛评委
希腊领事馆 朱敬一x云顶艺术x金阳光出国艺术家希腊之旅
观点:
艺术只是手段,思维力才是关键
艺术无处不在,每个行业的高手都是艺术家
艺术品本身就具有商业属性,是一种特殊的商品
脱口秀和演讲:
2014
TEDxNINGBO《互联网时代艺术如何玩》
2015
上海创意发声《最好的创意就是找到自我》
2016
金融博物馆《奇葩而自恰》
首档艺术大型脱口秀《艺术重塑人生》
第一站:张家港市政府
第二站:上海兰馨电影院
第三站:温州年代美术馆
2017 
朱敬一x 万科浪花 《艺术新浪潮》
TED x Lujiazui 《艺术重塑人生》
2018 
朱敬一x澎湃新闻 《奇葩而又自洽》
朱敬一x 造就 《人生真好玩》
朱敬一x 奇谭十一人《拜托了足球》
个展:
2018
《游园敬梦》系列之《来来去去庙》大型插片式艺术装置展,上海世博展览馆,上海
《未来实验室》,上海太古汇蔚来中心,上海
《解忧密径》,静安嘉里中心,上海
2017
《城市气泡》,SM SKY WALK ,厦门
《狂想云南》,昆明南亚风情第一城,昆明
《草书歌行》个展,大世界,上海
《艺术百代2017朱敬一跨界艺术展》,上海世博展览馆,上海
《科勒X朱敬一 混搭实验室》个展 , 苏州诚品书店 苏州
《不破不立》个展,NPC长乐路空间,上海
2016
《天演论》个展,春美术馆,上海
《文字涂鸦秀》个展,年代美术馆
2015
《同体大悲》个展,2679艺术空间,厦门
2014
《万物》个展,浦东国际机场,上海
《归山时,请把狐狸赶进白云》个展,RNP艺术空间,上海
2013
《是墨,非墨》个展,Karin Weber Gallery,香港
《桃花源记》 个展,Galerie Junger画廊 ,柏林
《12生肖》个展,Villach, 奥地利
2012
《山见·营造—立体的墨》个展,璞素研山斋,上海
2008
《妖野荒踪》个展,三尚画廊,上海
2006
《黑白炼金术》个展,顶层画廊,上海
群展:
2018
《Joy,up to love放肆爱 敢表白—大悦城2018年度全国品牌活动》,大悦城,北京/上海/天津/成都/沈阳/烟台
2017
《安居客"理想之城"公共艺术计划》,月星环球港,上海
《橱窗公共艺术秀》,汇金百货,上海
《艺术家的游乐场》,铂尔曼大酒店,广州 南京 上海
2016
《who?—海上新族当代艺术作品展》,春美术馆,上海
《回响·自然之道》,优在集,上海
2015
《62度灰和TA的朋友们》,尤伦斯艺术中心,北京
《上海新媒体艺术家联展》,Emergent Media Center,美国伯灵顿
《"TA时代"第二回展》,北京时代美术馆,北京
2014
《未完待续——2014东昌电影院艺术计划》,上海
《2014中国国际装置艺术展》,龙美术馆,上海
《养逸山房》,Karin Weber Gallery,香港
《各就其位》,多伦现代美术馆,上海
《袁石桃:一个非社会学研究的个案》,证大当代艺术空间,上海
《三维的墨》,多伦现代美术馆,上海
2013
《意·象——上海喜马拉雅美术馆开幕展》,喜马拉雅美术馆,上海
《墨测高深——当代空间水墨展》,北京当代艺术馆,北京
《山林艺术》,Chavaniac-Lafayette,法国
Zhu Jingyi
A Cross Media Artist who has 400,000 followers on sina microblog
The founder of Nanmen calligraphy
The founder of Three-dimensional Ink
An Internet art researcher
A shadow graffiti performer
An art aesthetic speaker
An Internet Celebrity on Calligraphy
Was born in a traditional Chinese medicine family of Jiangsu in 1975.
When he was a kid he already find the passion of traditional Chinese painting.
After graduating from the major of Chinese painting in Nanjing Normal Academy of Fine Arts, he worked as a teacher, designer, art director and writer.
In 2012, three-dimensional ink series emerged in the art world. In his view, art is something that everyone can understand.
Since 2014, he start crate and publish calligraphy on the Internet every day, which touching people's hearts and making his calligraphy widely spread in China. In order to popularize the sense that art originates from life, he is keen to participate in various talk shows recently.
Brand cooperation projects:
2012-2014
FOTILE kitchen, Art and Cuisine Project, 2012-2014
SENJADE, Custom-made Gifts, 2013-2014
2016
Montblanc, The Art of Writing Class, 2016
Park Hyatt, The Meeting of Cuisine and Art, 2016
SHISEIDO, The Annual Show, 2016
Sulwhasoo, New Product Launch Show, 2016
2017
NPC X Zhu Jingyi , T-shirt released jointly in 2017
NPC X Zhu Jingyi ,《It's not broken》solo exhibition , 2017
Kohler X Zhu Jingyi , Mashup lab ,2017
GF X Zhu Jingyi , Mask released jointly in 2017
Alibaba Group, Taobao Maker Festival ,2017
Unifon X Zhu Jingyi ,Jointly-Mask release ,2017
Taobao X ZhuJingyi ,Limited Edition gift boxes,2017
Pidan X ZhuJingyi ,stray cat feeding pouches,2017
YI Dakou ,YI Dakou X ZhuJingyi , "A big blessing"New Year gift boxes,2017
CMBC X ZhuJingyi ,Jointly-Credit card release,2017
PanDan X ZhuJingyi ,first anniversary celebration & Smiley FunLife art exhibition ,2017
Kohler Kohler X ZhuJingyi ,Imagine the "double 11",2017
Tsingtao beer X Zhu Jingyi , A customization of "Midnight Diner"beer cans ,2017
Montblanc X Zhu Jingyi , The Art of Writing Class ,2017
OTR X Zhu Jingyi , Jointly Signed T-shirt release,2017
Alipay ZhuJingyi X Alipay ,"A beggar of the day"project,2017
2018
Master Kang Zhu Jingyi X Master Kang mineral water Tour of Shenzhen ICIF,2018
Vanke DAJIA VILLA Zhu Jingyi X Vanke DAJIA VILLA "CHINA DEJA VU" Inspiring ideas creative party,2018
Robam Zhu Jingyi X Robam Super press conference,2018
FAW Toyota Zhu Jingyi X FAW Toyota spring new product release ceremony,2018
Volvo Zhu Jingyi X "Volvo XC60" car body graffiti creation and user-specific experience,2018
STAPLE STAPLE X Zhu Jingyi "Pigeon post",2018
series new product launch conference,2018
World cup Zhu Jingyi X World cup CCTV poster font writing,2018
Jiang Wen's film Calligraphy folding fan X Jiang Wen's film《Prevails over evil》Suzhou fan meeting,2018
pocky Judge of pocky creative art design competition ,2018
Greek consulate Zhu Jingyi X Yunding ART X GSS "Greek Art Tour",2018
Views:
The art is only a means, and the mind is the key.
Art is everywhere, and every master of each industry is an artist.
Art itself has a commercial property, and it is a special commodity.
Talk shows and speeches:
How to practice art in the Internet Age, TEDxNINGBO, 2014
The best idea is to find yourself, Shanghai Chuangyifasheng, 2015
An eccentric but self-sufficient person, The Museum of Mergers and Acquisitions, Shanghai, 2016
The Art Reshapes the Life, the first large-scale art talk show, 2016
Stop 1: The City Hall, Zhangjiagang
Stop 2: Lanxin Cinema, Shanghai
Stop 3: Epoch Art Museum, Wenzhou
2017
Vanke WAV X ZhuJingyi, 《A new wave of Art》,2017
TED x Lujiazui, 《Art reshapes life》,2017
2018
Zhu Jingyi X The Paper public speech"Weird and consistent",2018
Zhu Jingyi X " Zaojiu"talk 《Life is fun》,2018
Zhu Jingyi X "come on,football" Original football talk show on CCTV sports channel,2018
Solo Exhibition:
2018
"come and go temple"of"Youyuanjingmeng"Series
" Large plug-in art installations, Shanghai world expo exhibition and convention center
《Future Laboratory》Tai Koo Hui, NIO house Shanghai
《 The Alley of Relieving》JING AN KERRY CENTRE,Shanghai
2017
《city bubble》,SM SKY WALK ,Xiamen
《Rhapsody in Yunnan》South Asia Plaza shopping mall,Kunming
《It's not broken》,it's an NPC Zhanglelu space, shanghai
《Kohler X Zhu Jingyi,Mashup lab》,Suzhou Eslite bookstore 2017
2016
Evolution and Ethics, solo exhibition, Spring Art Museum, Shanghai
Calligraphic Graffiti Show, solo exhibition, Epoch Art Museum, Wenzhou
2015
Ink Lodge, solo exhibition, Hongkong, China
The Great Compassion, solo exhibition, 2679 Art Space, Xiamen
2014
Nearly Everything, solo exhibition, Pudong International Airport, Shanghai, China
When you return to the mountain, please urge the fox into the clouds, solo exhibition, RNP Art Space, Shanghai, China
2013
Ink, non-Ink, solo exhibition, Hongkong, China
Peach Blossom Spring, solo exhibition, Galerie Junger Gallery, Berlin
Chinese Zodiac, solo exhibition, Villach, Austria
2012
ZEN, Mountain View-Standing Ink, solo exhibition, PUSU Yan-Shan Study, Shanghai, China
2008
Fantasy in the Barren Land, solo exhibition, Sanshang Art Gallery, Shanghai, China
2006
The Alchemy in Black and White, solo exhibition, The Room With a View Gallery, Shanghai, China
Group Exhibition:
2018
《Joy, up to love》
Joy City 2018 annual national brand ,JOY CITY,beijing ,Shanghai ,Tianjin ,chengdu, shenyang, yantai
2017
《Anjuke "ideal city" Public art program》Global Harbor ,Shanghai
《Window public art show》Huijin Department Store,Shanghai
《Amusement park for artists》Pullman Hotel,Guangzhou,Nanjing,Shanghai
2016
《Who?-The New Shanghai-Contemporary Art Exhibition》CHUN ART MUSEUM
《echo,The Principle of Nature》,U+,Shanghai
2015
62 degrees of ash and TA's friends, Ullens Center for Contemporary Art, Beijing
Shanghai New Media Artists Group Exhibition, Emergent Media Center, Burlington, United States
"TA era" the second exhibition, Times Art Museum, Beijing
2014
To be continued –2014 Dongchang Movie Theater Art Project, Shanghai,China
2014 China International Installation Art Exhibition, Long Museum, Shanghai
Lodge of Tranquility, Karin Weber Gallery, Hong Kong
In its place, Duolun Museum of Modern Art, Shanghai, China
Yuan Shi-Tao: a non-case sociological research, ZhengDa Contemporary Art Space, Shanghai, China
Three-dimensional ink, Duolun Museum of Modern Art, Shanghai, China
2013
The work Transition was showed in the opening exhibition of Himalayas Art Museum, Shanghai, China.
The work Transition was showed in the advanced ink testing-Contemporary Ink Painting Exhibition Space, Beijing Museum of Contemporary Art, Beijing, China.
Hillwood Art Festival, Chavaniac-Lafayette , France
[ infomation ]
所在地:東京都目黒区青葉台1-14-18 1F MDP GALLERY
アクセス:東急東横線 中目黒駅正面出口より徒歩8分
代官山蔦屋書店から徒歩7分
東急田園都市線池尻大橋駅から徒歩15分
TEL:03-3462-0682
URL: http://mdpgallery.com/
Venue:MDP GALLERY
Date: Friday 17th May 2019 – Saturday 25th May 11am-7pm
Closed:Sunday,Monday & National Holiday
Adress: 1-14-18 Aobadai Meguro-ku
Tel:03-3462-0682